ACT 4 SA empowers the San Antonio community through year-round base building, actions of solidarity, public education, policy, and advocacy. We are dedicated to pushing for accountable, compassionate, and transparent measures to create public safety that preserves and centers the health and well-being of our entire community.
We are focused on building the presence of life-giving systems that allow people to thrive and be well. Systems that prevent harm and better equip communities to address harm when it occurs. We choose not to perpetuate trauma-inducing systems rooted in racism and oppression. We believe educating our community will help create more leaders who can help us push toward freedom from the oppressive carceral system we currently face. We know that comprehensive public safety reaches far past the risk management of our current institutions.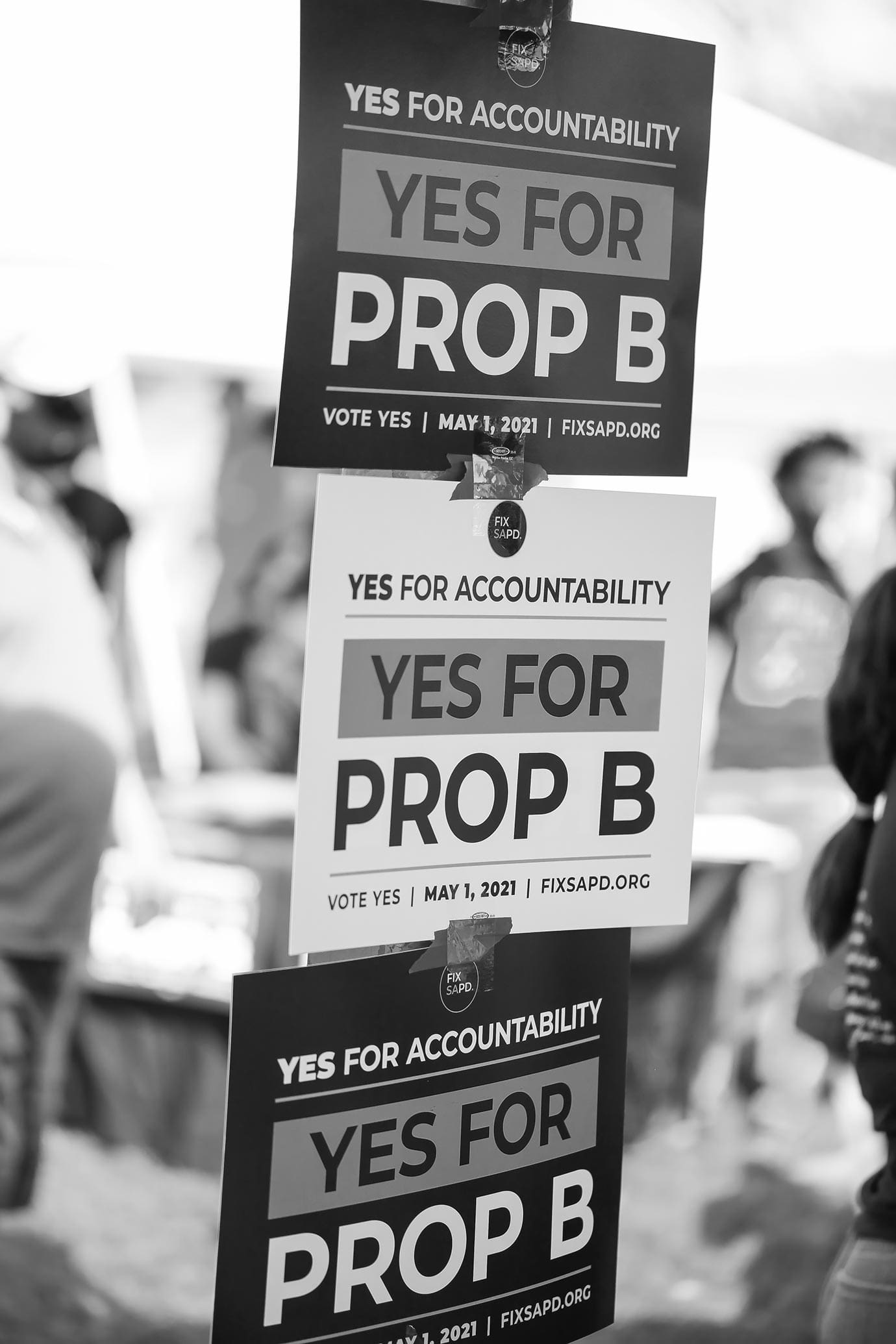 ACT 4 SA is the first grassroots organization in San Antonio to focus on policing the police. Composed of former organizers and volunteers of the Prop B initiative, ACT 4 SA is here to answer the community's calls for accountability through solidarity, education, activism, and advocacy.
Founder, Executive Director
Ananda Tomas (she/hers) is the current Executive Director for ACT 4 SA, and the former Deputy Director of Fix SAPD, which ran the Proposition B campaign in San Antonio last May. This initiative would have removed the current police contract in an effort to create a new contract that created stronger police discipline and transparency to the public. Although the ballot initiative failed by a mere 2%, it has changed the conversation around police accountability and taking on problematic police contracts across Texas and the nation.
Before organizing for police accountability in San Antonio, Ananda attended the University of Texas at San Antonio where she received her Master's in Political Science. Before this, Ananda worked on several electoral races in several states, including serving as a Regional Field Director for the Bernie 2016 campaign and helping elect a State Senator in Oregon in 2014. She received her Bachelor's in Social Work and Sociology from Eastern New Mexico University in 2012.
"Nokita "Six" Moore is a 33-year-old queer Afro-Indigenous community builder hailing from San Antonio, Texas. A lover of poetry, craft beer, and abolition, not necessarily in that order.  She uses the She and They pronouns. Her personal practice is in encouraging specifically women of color to "survive." She introduces herself as a "survivor" and promotes "all women of color are survivors when we make it to the next day in a world that institutionally treats us as an enemy of the state.
With over a decade of leadership experience, she has been a pillar of the community. She is the owner and founder of The Spice Rack Refuge, which provides educational, healing, and transformative workshops for the BIPOC (Black, Indigenous, and People of Color) community. In addition to being a pillar of support for those around her, Nokita is also a part of San Antonio's art scene, having been a poet that has performed and partnered with nonprofit organizations like Write Art Out, which hosts a weekly open mic and provides writing workshops to San Antonio youth. 
She has been working in the nonprofit sector since 2015, most recently with TOP under the Right 2 Justice campaign. She believes that organizing and healing go hand in hand and aims to "work herself out of a job."
Jade (Ha-theh) Pacheco (She/Her/Ella) is a Community Builder with Act 4 SA. She is a queer Latina who loves reading and playing board games. As a Community Builder she will work to uplift community voices concerning policing in San Antonio. Jade is passionate about supporting her community in the efforts to create real and lasting change that will make a safer community where all are treated with dignity and kindness. She is a graduate of The University of the Incarnate Word with a Bachelors in English. While at UIW she worked at the Ettling Center for Civic Leadership where she found her passion in serving her community. Jade served as a Bernie Victory Captain during his 2020 Presidential Campaign. She is currently an Equality Texas Fellow.
Edoardo Munoz (He/Him) is Community Builder with ACT 4 SA. Raised in the southmost part of the Rio Grande Valley (Puro 956) he found his love for community and advocacy very early on. He is a graduate of The University of Texas Rio Grande Valley, where he studied Political Science and Philosophy. While in college Edoardo worked as a high school debate coach, a political canvasser, and an after school program coach for the local school district to help financially support his studies. This experience, along with his love for political advocacy, led him down the road that he's currently on. Edoardo has extensively worked on civil rights and policy/legal research since graduation, along with a variety of political campaigns. Through the process of the work he is doing, he hopes to create a positive impact in the communities we serve.